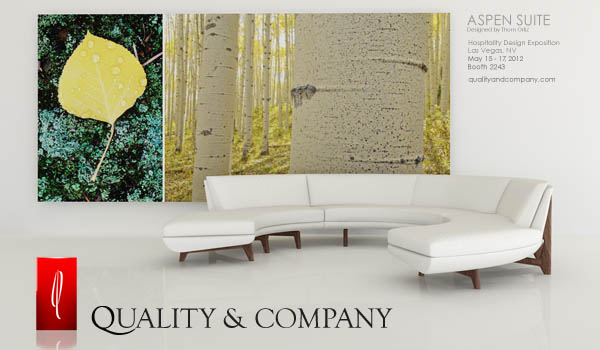 HD Expo 2012
The HD Expo is the source for the newest and most inspiring hospitality products and services and most importantly your connection with the wider hospitality design community.
Please come visit our Aspen Lodge themed booth at this year's HD-Expo in Las Vegas, May 15-17; we look forwards to seeing you there!
Other Top Stories
Giada's Restaurant Las Vegas
- News & Events

Coming Soon to the Las Vegas Strip! -
Quality and Company is very excited to announce we have once again partnered with Caesars Entertainment on the new Las Vegas boutique hotel, The Cromwell.
Q&C receives high score on HSPI
- News & Events

Q&C receives high score on HSPI -
Quality and Company has just recieved the high score on the Hospitality Sustianabilty Performance Index amongst it's competitors. Quality and Company recieved an overall average of 3.5 between all the criteria graded by the index. This is the highest score to be given to a hospitality furniture manufacturer directly competeting in Quality and Company's industry.